Yukibana (Chinkin Snow Flakes)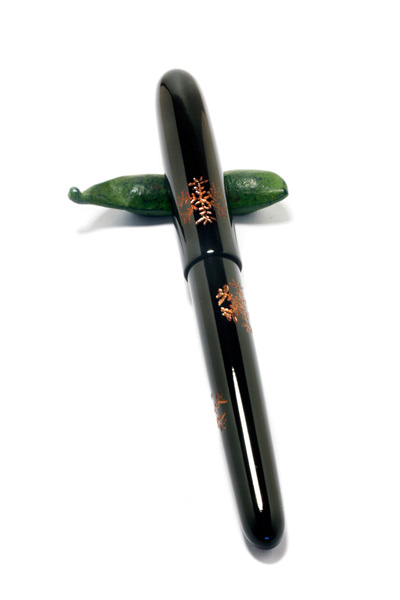 Description:
Shôen-Nuri lacquered with urushi mixed with Pine Carbon or
lamp soot. Lamp soot or pi ne soot is also used to make ink
"sumi". Black Lacquer pigmented was traditionally used only
for high quality lacquer work. For regular work the so called
"roiro-urushi" is used, a transparent lacquer that was toned
black with iron sulfates. The "shôen-urushi" will stay jet black
for ever. the "roiro-urushi" will turn brownish with the time.
This pen is decorated with "Chinkin" carved "Yukibana" Snow Flakes
Standard Size
Reference Number: S-150x16-SCH
Pen Type Shibui
Pen Nib: Size No. 6 (750/18 Kt Gold)
Artisan: Martin Pauli
Medium Size
Reference Number: S-165x17-SCH
Pen Type: Shibui
Pen Nib: Size No. 6 (750/18 Kt Gold)
Artisan: Martin Pauli