Kaeru Negoro (Frog Negoro)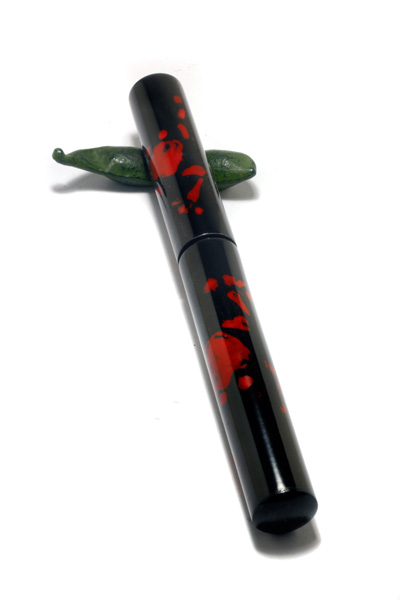 Description:
Kaeru-Negoro Nuri
. Under the red lacquer coat three stylized "katatsumuri" snails are painted with black urushi which appeared after grinding and polishing.
Frogs for in Japan, as in China, are auspicious creatures, bringing rain, fertility and good fortune…on account of the abundant number of eggs produced by a frog(about 1500). The frog is regarded as the god of rainfall associated with the tsuyu rainy season and with good harvests in Japan(rainfall being particularly important for abundant harvests of rice). In China, the three-legged toad was a traditional pet of the god of the wealth frog, and frog statues with a gold coin in the mouth, are commonly to be found.
Standard Size
Reference Number: B-150x16-KUN
Pen Type Miyabi (Shibui)
Pen Nib: Size No. 6 (750/18 Kt Gold)
Artisan: Martin Pauli
Medium Size
Reference Number: B-165x17-KUN
Pem Type: Miyabi (Shibui)
Pen Nib: Size No. 6 (750/18 Kt Gold)
Artisan: Martin Pauli